In The Workshop - Customer Cars, Past and Present
Below are some of the cars we are either presently working on or have worked on in the past.
A busy workshop!!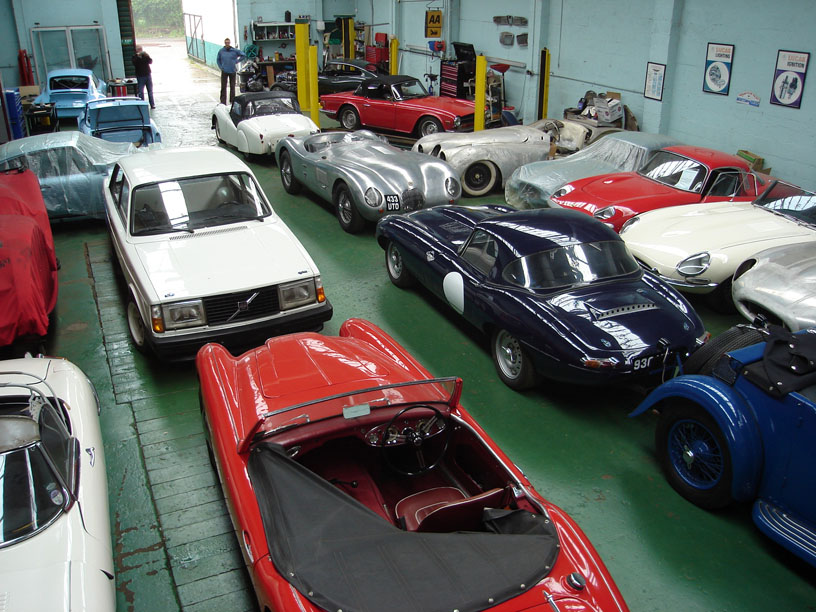 Bugatti Type 35B









Details

Recently bought by an Aberdeen customer to add to his collection, this lovely Bugatti Type 35B was originally supplied in 1926 to Argentina and has a tremendous race history, the Argentinian owner racing alongside Fangio in 1930 and other races.

In more recent years it was alleged to have been the fastest racing Bugatti in the USA, having competed at Laguna Seca, Road America, Sebring and various other circuits.

We initially collected the car on behalf of the new owner, doing some test miles and servicing before handing over to him to enjoy.

That straight eight supercharged engine being pure music !

More recently we have overhauled the gearbox and clutch which had been assembled wrongly, along with various engine oil leaks, or at least slowing them down ! (A common Bugatti problem).

The Supercharger also needed setting up following some high oil consumption.

The new owner is obviously is enjoying his new steed as we've recently had to fit a new set of Blockley tyres to the lovely split rim alloy wheels; who thought "split rim alloys" were a new invention ?
Rolls Royce Phantom 11







Details

This Rolls Royce Phantom 11 was recently brought to us from Switzerland for re-commissioning, having been off the road for the last 9 years.

After draining the old stale fuel from the fuel tank and lines, the Autovac fuel pump was found to be gummed up and needing to be rebuilt with new seals, along with the carburettor which also had stuck floats and damper due to the old fuel.

After making it run again for the first time in many years it was given a change of oils, a good service and road test.

We're glad to say the owner has bought a local castle and the car is staying here so we're looking forward to seeing it being driven around the Angus roads.

The last photo is the car in 1934 with King George V, inspecting RAF Hendon. It really is a bit special.
Bentley 4.5 litre









Details

Bought recently by an Aberdeen collector this Bentley 4.5 litre 'Blower' is in for a carburettor rebuild, some electrical work, servicing and preparation for some long distance events planned for next year.
Jaguar XK120 fhc Rebuild









Details

This is a Jaguar XK120 fhc rebuild for a Turkish customer.

It is a very high specification car with many upgrades such as a modified E-Type engine, 5 speed gearbox, power steering, vented disc brakes, custom interior, 'D' type wheels, etc.
Special Bodied Sprite










Details

One of the most beautiful special bodied Sprites.

Built by Philip for Chris Pass who is currently racing it in the Knockhill Historic series.
Jaguar Mark IX












Details

Jaguar Mark IX in for new sills, front suspension bush rebuild, cylinder head overhaul, and later repairs to accident damage.
Jaguar D-type Rolling Chassis











Details

This partially built D-Type rolling chassis was brought to us to make the bodywork centre section, doors and sills.
Caterham 7




Details

Caterham 7 in for appraisal, service and brake work.
Ferrari 365 BB














Details

Ferrari 365 BB recently bought by a local collector and in for body refinishing along with chassis and suspension detailing work.

The first Ferrari road car to use an F1 derived flat 12 cylinder engine and used in this configuration.

Sounds wonderful!!
Alvis TE 21 dhc












Details

The Alvis Three Litre Series III drophead coupe, also known as the Alvis TE 21, in for maintenance, bearing and brake upgrade work.
Jaguar XK Engine Rebuilds












Details

Four XK engines being rebuilt: one XK150 3.4, one XK150 3.8, one race 3.8 E-type and one 4.2 E-type.
From Road to Race





Two XK150s


Details

Jaws meets Jaws ! XK150s of Roy Burnett & David Allan in for routine servicing.
XK150 Servicing


Details

Ken Sherrard's XK150 DHC in for some electrical and servicing work.
XK120 Servicing



Details

High mileage XK120 driver Colin Stewart, rebuilt gearbox & new rear springs.
A Rare Marcos Mantis















Details

A rare Marcos Mantis with original fitment 2.5 injection Triumph engine.

After being laid up for several years the car was found by a local collector.

The car was needing recommissioning, gearbox overhaul, and repainting, suspension set up and retrimming of the interior.
Lotus Elan S4








Details

Lotus Elan S4 Sprint/Race or fast road car.

It is fitted with 26R wheels arches, 160bhp Agra engine, Spydersport chassis, nickel plated wishbones, AP caliper, close ratio gearbox, and limited slip differential.

It is presently being refurbished to a high standard.
Jaguar XK150 fhc





















Details

This XK150 fhc from James Walker has been brought for a complete bodywork overhaul.

The body has many horrible badly repaired, patched and rusted areas making the whole structure very weak.

Some of the many panels to be replaced will be rear inner wings, tonneau sections, door skins, sills, front wing repair sections and even some metal on the roof!
Austin Healey Sprite Le Mans



Details

This Austin Healey Sprite Le Mans replica has been comissioned by Chris Pass.

A very exciting project, Chris's intention, with our support, is to take it for an assault on Le Mans.
Austin Healeys


Details

A Brace of Healeys in for some routine maintenance.
Porsche 911S


Details

Porsche 911S for routine servicing and some paint work.
Jaguar XK140 dhc


Details

Roy Burnett's beautiful XK140 dhc in for some electrical and tune up work.
Triumph TS2


Details

David & Philip, being Triumph TR Register club members, were recently privileged to be given a drive of TS2 (the first RHD Triumph TR2 made) and to give overnight accommodation and a check over to this piece of automotive history.

A fantastic idea by the TR Register Club of passing the car over to their club members on a round Britain trip.

Now if only Jaguar could do that with a D-Type ... somehow I don't think so !
1969 Porsche 911 RSR




Details

1969 Porsche 911 RSR replica for Andy Dee-Crowne.

Currently having a more modern 3.6 engine and G50 gearbox fitted along with roll cage, bias pedal box, supension and brake upgrades and .. basically everything uprated !
1969 Porsche 911 RSR at Silverstone



Details

Some pictures of Andy enjoying the finished car at Silverstone.
Daimler Dart


Details

A Daimler Dart engine rebuild, brake and supension rebuild for Peter Young.
Lotus 11 Twin Cam










Details

Lotus 11 Twin Cam replica.

Repairs to alloy bodywork, engine rebuild.

Fitting a close ratio gearbox, suspension rebuild and set up, and wire wheel conversion.
Jaguar Mk2






Details

Jaguar Mk2 in for an engine rebuild, brakes and suspension work, and fitting new Tudor Webasto sunroof.
1966 Jaguar E-Type















Details

1966 Jaguar E-Type.

Rebuild very rusty bodyshell, fit alloy bonnet, rebuild suspension and brake upgrades.
1965 TVR Griffith

Details

1965 TVR Griffith, pre-race check.
1955 Jaguar XK140 fhc









Details

1955 XK140 fhc.

Much recommissioning work after being off the road for 30 years!

Including some trim, interior wood, brake work, new wiring and engine work.
Jaguar XK150 fhc

Details

Jaguar XK150 fhc, in for Servicing.


Jaguar XK150 fhc, in for Servicing.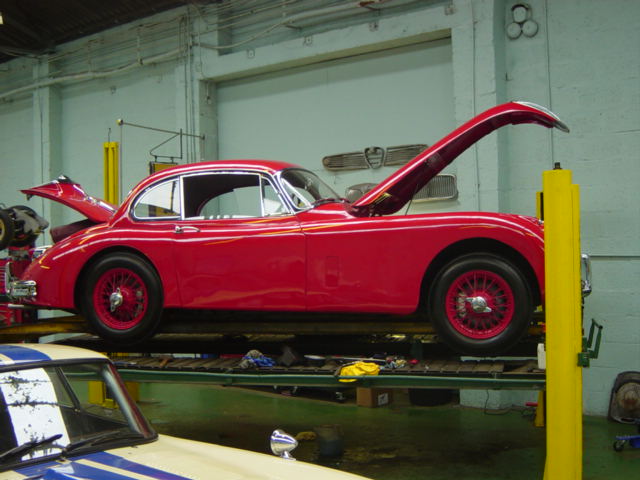 In The Workshop - Our Projects, Past and Present
Below are our ongoing long term projects, our own cars.
1950 Alloy Bodied Jaguar XK120



Details

1950 Alloy bodied Jaguar XK120, chassis number 670120.

We found this car in Texas alongside XK120 670003, the Clark Gable car.

It was originally supplied early in 1950 to the famous American motoring journalist Henry N Manney and has an interesting history.

Our intention is to rebuild it back to its original Pastel Blue with Duo tone upholstery.
Jaguar




Details

This project is the 1962 Jaguar E-Type Roadster we are rebuilding into an alloy paneled race car.

We bought this from a customer in the oil industry who owned it for it about 18 years.

He had bought in the USA, ran it for some time before importing it back to the UK (registering it 8249 CZ) and using it here occassionally in the summertime.

Unfortunatly it had suffered from some bad repairs in a past life and the body was starting to get really poor, almost to the dangerous stage!

We have used a brand new monocoque on this project (so bad was the original) and used an alloy boot floor, alloy tonneau section, alloy rear wings, alloy doors and of course an alloy bonnet.

Even moving the car about on its dolly one can feel the vast difference this has made to the body shell.
1961 Jaguar E-Type








Details

1961 Jaguar E-Type, chassis number 850029 is the 29th right hand drive made (we also own 875029 the 29th Left hand drive car made) and is another one of our current projects.

It was manufactured on the 14th of June 1961 and has of course many features peculiar only to the very first E-Types.

Things like door top chromes, windscreen chromes, number plate lights, louvres in the bonnet, outside bonnet catches, air filter etc.

These and many many more items make this so different from the later production cars.
.