Welcome to

...
...The Classic Car Workshop.
Workshop
We specialise in the servicing, maintainence and restoration of classic and historic cars. Our extensive facilities cater for everything from simple servicing, electrical, engine rebuilding, suspension set up and structural work to full restorations.

When looking for advice please feel free to contact us.
Car Sales
We specialise in buying, selling and brokering of fine classic and historic sports cars. Visit our Car Sales pages for further information and current stock-list.
Recent Events
We regularly host social events, both out and about and at the garage. One such was our annual barbeque, in this case on the 11th July 2015. It is with thanks to, and the kind permission of, Jim Paterson that we reproduce here the CC+HMSC Report and photos from the day. Many thanks to all who attended and whose wonderful cars added to those on show.

Copyright © 2021 Classic AutoSports Ltd.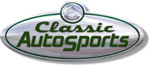 Classic AutoSports is a specialist supplier of Jaguar XK and E-Type cars and other classic marques. Please get in touch with us if you have an interesting vehicle for sale. We are always interested in good quality classic cars and will consider part-exchange.